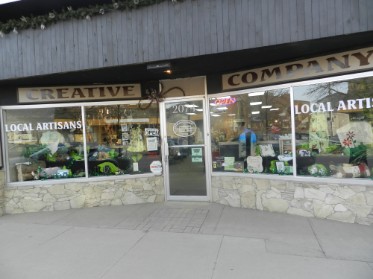 Location: 2074 Quilchena Ave. Merritt, BC (see map)
Store Hours: Mon-Sat, 10am-5pm
Phone: 250-378-0813
Description: Unique Handcrafted Items for Sale
Payment: Cash, Debit, Visa
Merchandise includes: Stained Glass, Handbags, Baby Blankets & Children's Clothing, Jewellery - Western Silversmith, Slate Products, Photography, Hand-Woven Scarves and Towels, Barnwood Products, Hydro-Graphics, Hand-crafted Pens, Local Honey and much more.
You can also follow us on facebook to see more updated photos of the products in the store. The link is at the bottom of the page.
Creative Company is a local artisan run co-op and has been a part of the Merritt community since 1989, offering unique handcrafted items from the Nicola Valley.
Creative Company invites you to come in and browse and meet the various artists who work at the store. We are located downtown in Merritt, British Columbia (2 doors down from the Royal Bank).
Whether you are looking for a gift for someone special, or something for yourself, you will be dazzled by the variety and workmanship available at this little gem of a store.